The World's Mountain Peak, the Mount Everest is the highest challenge for the trekkers. Over time many are have been attempting to scale the peak, a few have been successful in it and many unsuccessful. The crowd has increased on Mount Everest and with that has increased garbage and trash. Even the highest mountain peak is getting covered with trash instead of snow. In order to save the mountain peak, Nepal conducted a month-long cleaning campaign, it collected more than 10,000 kg of garbage from the region. The campaign was organized by both government and non-government agencies. Both the government and the non-government agencies along with a team of Sherpa joined hands to carry out the campaign. Instead of dumping the wastes to a landfill near Kathmandu, they segregated the wastes into raw materials. One of the social enterprises from Kathmandu that took part in the cleanliness drive was Blue Waste to Value, the agency head Nabin Bikash Maharajan said,
"We segregated the collected materials in different categories such as plastic, glass, iron, aluminum, and textile. Of the 10 tonnes of waste collected, two tonnes have been recycled. The remaining eight were mixed with wrappers and semi-burned items, which could not be recycled."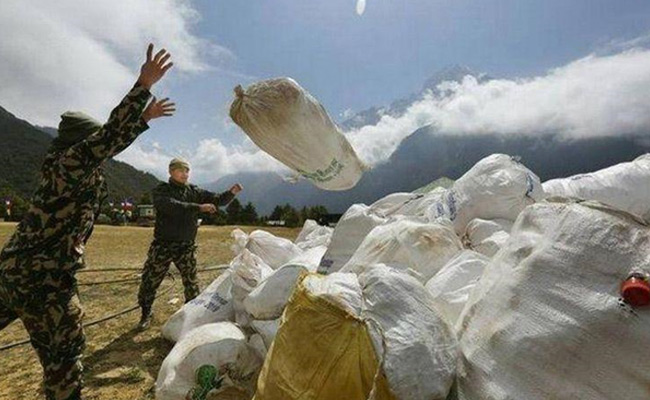 Maharajan's team works with hospitals, municipalities, hotels and different offices in order to maximize the value from waste products by recycling and reusing them. They collaborate with another organization, Moware Designs to produce recycled glass bottle products and sell them online. They are used as decorative items in homes, offices, hotels, restaurants and other places. The products are all sterilized and are sold within the price range of 350 Nepalese rupees to 2,000 Nepalese rupees.