"If you want to shine like a sun, first burn like a Sun", is what he said being one of the brightest 'star' in the history of our nation. Dr. Avul Pakir Jainulabdeen Abdul Kalam has many adjectives onhis name including 'Missile Man', and 'People's President', but every adjective falls short to describe his greatness and excellence. Professionally he was an aerospace scientist and the 11th President of India from 2002 to 2007. He was behind India's very own Satellite Launch Vehicle (SLV), which was the country's first indigenous SLV. SLV III used for the launch of Rohini Satellite in Earth's Orbit was also developed by Kalam. This ensured the entry of India into the global space club.
Kalam worked for the Indian Space Research Organisation (ISRO) for over two decades before working at the Defence Research and Development Organisation (DRDO) for developing indigenous guided missiles. He got his popular name 'Missile Man of India' for developing Agni and Prithvi missiles. From 1992 to 1999 he served as the Scientific Advisor to the Defence Minister of India and under his advice the country went ahead with the nuclear explosions at Pokhran. He also put India's name into the club of Nuclear Powers with the engineering of the Pokhran-II Nuclear tests. Along with cardiologist Dr. B. Soma Raju, they developed India's first coronary stent, which was named Kalam-Raju-Stent. Being an aeronautical scientist, he took great interest in Light Combat Aircraft of India and was the first Indian Head of State to fly a fighter plane.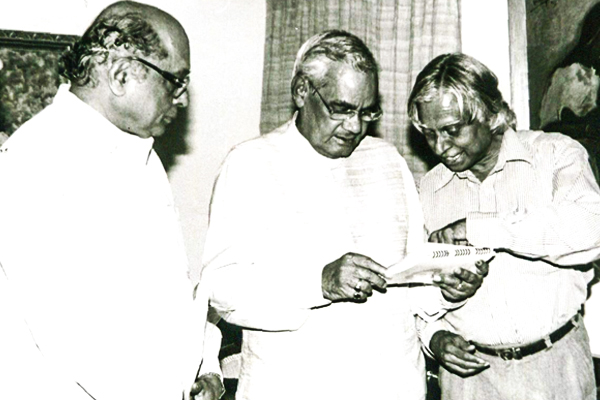 Kalam was a nature lover also, who loved taking strolls around the flowers in the garden of his residence. There in his garden stands tall Arjuna his friend, a Terminalia Tree, which is over 110-years old. Anyone who visited him, in his house would face the question;
"Have you met my friend Arjuna? Let me introduce you to him. He is a wonderful fellow."
When asked about why is Arjuna so special and why he admires him so much? To this Kalam said,
"Because Arjuna lives to give and anyone who lives to give needs to be venerated. Arjuna's mission in life has been "What can I give, what can I give, what can I give?" that is why he is standing so proudly and happily at such an age."
Like Arjuna, Kalam also gave, gave and gave to the nation and us. On 27th July 2015, while delivering a lecture at the Indian Institute of Management, Shillong Kalam collapsed and passed away. The entire nation still mourns the death of this great leader. He was the 'Arjuna' in our lives.